Breeding Program
Horses for Sale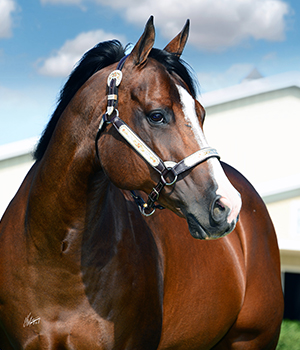 Rosewood is a working Ranch and has an active breeding program. Weanlings currently available for sale (not shown):
3 Foals Sired by COOSA
2 Buckskin Fillies Sired by ERMOSA GALLO
5 Foals Sired by PROPHETS MIRACLE (Colors range from Dun to Palomino)
1 Foal Sired by RADICAL REVOLUTION
Rosewood's horses are famous for their conformation, beauty and intelligence. A trainer recently told the owner of a Rosewood horse that he had never worked with a more intelligent, honest-minded horse and one so willing to work. Rosewood frequently hears such compliments.
Contact Eric Hammond, 620-786-1693, for more information about Rosewood's Breeding Program and horses currently for sale.
Coosa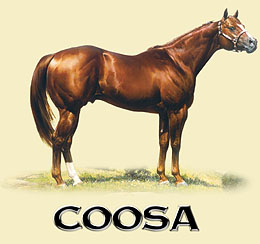 Like the river for which he was named, Coosa's pedigree ran strong and deep. The true characteristics of a winner, Coosa was HYPP-N/N. Coosa lived a very long life and died peacefully at Rosewood Ranch on July 29, 2009. He was 27 years old. Rosewood Ranch was Coosa's Final Home.
Coosa was a Two-Time Reserve World Champion.
Stallion Sheet - American Quarter Horse Association, AQHA Registration
Bloodlines you can trust, now and for generations to come...
Limited amounts of semen are available - click on the links below or contact Rosewood Ranch for details - 620-786-1693 (Cell).
Sire of 375 performers winning 4,832 Halter points and 1,643 Performance points,
9 World Champions, 7 Reserve World Champions, 20 Superior Halter Horses,
5 Superior Performance Horses, 162 ROM Earners.
AQHA Incentive Fund Enrolled
Owned by Eric & Tammy Hammond
Breeding Fee $1,500
Shipped Semen Contract for Coosa
Ermosa Gallo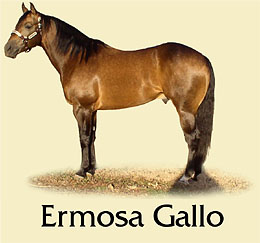 Ermosa Gallo has it all as a premiere performance sire. This young stallion is very correct, has a gorgeous head and is 15 hands.
Here are some of his achievements:
2002 Qualified in multiple classes for November, 2008 WORLD SHOW
Earned Superior in Open Heeling 1st Season Shown
Shown and Trained by Travis Hodson
115 Performance Points Heeling and Heading
Superhorse Contender
AQHA Incentive Fund Enrolled
Owned by Eric & Tammy Hammond
Breeding Fee $750
Cooled Semen Available for Shipment