Roots and Wings Foundation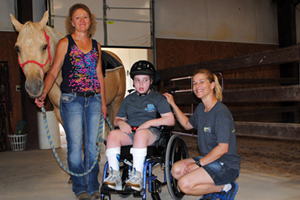 "There are two gifts we can give our children: One is roots and the other is wings."
Roots and Wings Foundation Helps Pay for Unpaid Medicaid Expenses
Soon after Rosewood opened its doors, the need was evident for funding to help pay for non-allowable Medicaid expenses. The Rosewood Roots and Wings Foundation is a 501(c)(3) organization, established to accept charitable contributions on behalf of Rosewood Services.
The Rosewood Roots & Wings Foundation was founded in 1998 to help advance the physical and mental needs of disabled individuals in central Kansas. It funds educational, instructional, therapeutic and recreational opportunities by providing wheelchairs, technical and assistive equipment, dental and medical care and legal assistance. It also strives to enrich the life experiences of disabled individuals by funding trips to museums, concerts and other activities. Foundation board members include Sandy Smith, Joel Jackson, Phyllis Vogt, Melonie Myers, Amanda Hammond-Fellers, Anna Hammond-Bodine, and William Rains. Tammy Hammond, Jennifer Stoddard, and Patty Halseth serve as ex-officio members.
Roots and Wings signifies the security and stability rooted in the services Rosewood offers, along with the courage and ability for clients to try their wings and reach for as much personal independence as possible. Please contact our Foundation to learn how you can help Rosewood clients both roots and wings through a donation.
Planned Giving
Planned giving allows you to make a lasting gift on Rosewood Services clients, while also protecting your valuable assets from income and state taxes. There are several ways to structure a planned gift to maximize tax and financial benefits, allowing you to increase the size of your gift without increased costs.
YOUR Gifts Inspire Them to New Heights!
Rosewood's Roots & Wings Foundation has helped our clients with educational, therapeutic and recreational pursuits by providing:
Technical and Assistive Equipment and Technology
Wheelchairs
Dental and Medical Care
Equine Therapy for Children
Legal Assistance
Life enriching experiences such as trips to museums, camps and conferences.
More than $150,000 has been utilized from the Foundation to provide opportunities for Rosewood clients. Those purchases would not have been possible without contributions from caring people like you.
Rosewood Bargain Barn was developed as a proactive business approach to earn funds for the Roots & Wings Foundation. We're always looking for quality items to sell. You can drop your items off during business hours or let us do the lifting! Free local pick up service is also available for items that are too large and/or too heavy to fit in your car. We can transport items to our store or sell remotely through our website.
By donating to the Bargain Barn, we can help you clear out your surplus inventory and in turn, we provide you a tax deductible receipt. Beyond a great deal or a tax deduction, you'll receive immense satisfaction knowing that you are truly making a difference in the lives of people with disabilities who live in central Kansas.
Thanks for your Continued Support!
Contact us today if you would like to know more about our Foundation.