Case Management
For Children and Adults with Developmental Disabilities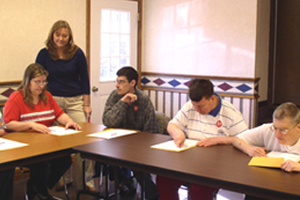 Our case managers are experienced and knowledgeable and are licensed to provide services within the state of Kansas.
What does that mean for you?
It means you'll receive the best and most comprehensive services and support from us, compared to any other area service provider!
We provide extensive individualized supports and services, and we take pride in developing close-working relationships with you and your support network of family, employers, teachers, and service providers.
We serve as your professional advocate and your resource for information. We will work with you or your guardian to provide the right services you need to succeed. We will assist with connecting you to any needed services, such as mental health, legal, medical. We'll even arrange visits with family members, or social outings and trips to allow you to expand your horizons and enjoy a more fulfilling life.
As your partner and advocate, we will find resources, explain your rights, and help you understand systems. We will walk with you every step of the way! We even provide 24-hour on-call services to assist with crisis action planning.
Even when there aren't easy solutions to problems, we will use our expertise and resources to find solutions that don't normally exist.
Here are several recent examples of the unique differences our case managers have made for individuals:
Worked with the CDDO to purchase a specialized tricycle for a 12-year-old girl in need.
Coordinated with Rosewood Services Roots & Wings Foundation to pay the legal fees for getting a guardianship in place for someone in services.
Helped to coordinate a renewable Children's Miracle Network Hospital grant, which is paying for riding fees of children who are involved in the horse therapy program at Rosewood Ranch.
Coordinated with the CDDO the purchase of iPads as communication devices for use by individuals receiving services.
Involved in an effort where the CDDO granted money for dental care not paid for by the state medical program.
Instrumental in effort to secure a Roots & Wings grant for purchase of a learning program used on an autistic child's iPad.
Contact us today and let us know what questions or issues you have!
We'll work together in growing new opportunities specifically for you.